Quite diverse these days, but I've been determined not to become a Jack of all trades so here's what I handle to date:
IOS (iPad) Device Mangement – We've been doing this for a while, but as it's the quickest growing sector of the business I thought I should make some noise about it… We are experts in wrestling your fleet (I dunno what the collective term for iPads is..) of iPads into line.
Heard of Configurator but baffled by it's options?
Original supplier left you with a Configurator setup that is now just sat there?
We know Configurator in-depth and will explain everything in plain English to you.
Wanna stop your students/Staff from deleting apps? Wanna deploy apps through the wifi without plugging them into a usb cable? No problem.
Once we've finished you can have remote access/tracking of your iPads all through a web browser and be able to remote wipe them and send Applications to them. If you need someone to show you how to use in a classroom situation we can point you in the right direction too..
Educational OSX Installations/Support/Troubleshooting – Lots of schools have badly installed/Configured Macs & end up hardly using them. Let me come and show you what these workstations can really do… Will a little planning and management your school/college/academy can finally make those shiny Macs pay for themselves!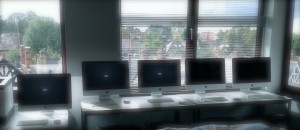 Wifi – We don't really handle large Wifi installations, we leave that to specialists, but we do regularly handle Primary School, Small Business & Home Wifi solutions and have a proven track record.
Pro Audio Installations/Troubleshooting – A specialist in remote support. I've saved many a recording session from hundreds of miles away..occasionally thousands. If you want the benefits of my laconic sense of humour I'm also happy to come to yours as long as there's a kettle!
We handle Avid ProTools (v7 – 11), Apple Logic 8/9/X & Garageband (OSX & IOS), Ableton Live 5- 9, Cockos Reaper (all versions), Tracktion 4& 5, Reason & given a few minutes can master most lesser known packages.
Video Edit Storage & Transcoding support – what file format is best for your project – what storage requirements will you need a year into the future. From iMovie (OSX & IOS) in Education upto Final Cut Pro X & Adobe  Premier in the mid to High End.
Integration of Macintosh into Active Directory Networks – Been historically been mostly in Education, but we don't discriminate. We do Business as well. Got exchange & Mac..no problem.
OSX Server – Though we generally don't support the idea of locally based email servers (they will always go wrong at some point and you'll feel like I'm constantly there underfoot..) OSX Server has many valid uses. Computer & User Group policy management in Business & Education, Mobile Device Management, File Sharing, Software Update Server, Network DHCP Server etc etc  If yours has thrown a sickie..we can bring it back to health.